Submitted by

Jamal Moustafaev

on Fri, 08/05/2016 - 13:17
Introduction
The project to deliver the most expensive warship in the world is $2.3 billion over the budget and 2 years (and counting) late. The US Navy's newest $13 billion aircraft carrier is still not ready for combat because of mechanical delays that have already put it two years behind schedule, according to the Pentagon's top weapons tester.
The USS Gerald R. Ford (see Figure 1 for more info) was supposed to be ready by September 2016, but Michael Gilmore, the Defense Department's director of operational test and evaluation, said in a June 28 memo that the warship had ongoing launch and recovery problems.
Figure 1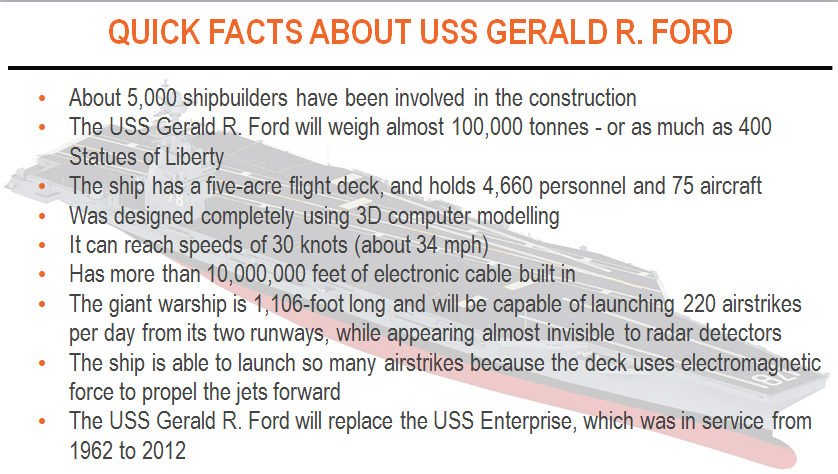 The construction of the ship started in November 13, 2009 and is still ongoing. Click on the video below to watch the time lapse.
Video - USS Gerald Ford Construction Timelapse
The Problems
Table 1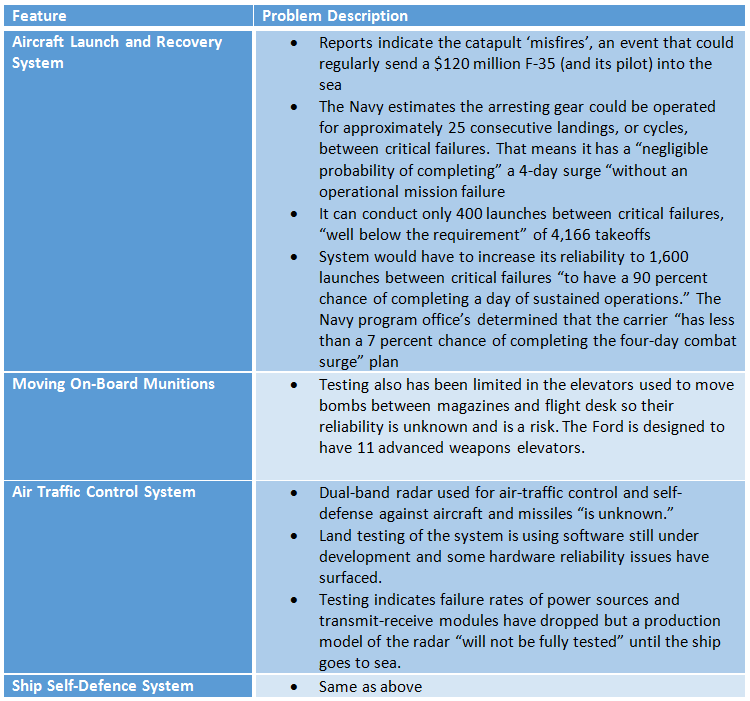 The Root Causes
Let us try to analyze the root causes first.
"Unrealistic business cases, poor cost estimates, new systems rushed to production, concurrent design and construction, and problems testing systems to demonstrate promised capability"

Chairman of the Senate Armed Services Committee Senator John McCain
However the some officials indicated that missed deadline can be attributed to the decisions made when the Pentagon committed to building the advanced ship in 2008.
"The decision to proceed with these three systems was made many years ago, prior to their maturation, when transformational approaches to acquisition were a DOD policy,"

Mark Wright, a Defense Department spokesman.
Let us try to make some sense out of the information presented above:
New Technologies – every project manager out there is aware of one simple fact: the more cutting edge stuff is added to your project scope, the more headache (i.e. uncertainty) you are going to have. This implies more time on requirements, more time on development and way more time on testing.
"With these new technologies comes a lot of developmental challenges," Moore, an MIT-trained nuclear engineer
As a result, the Government Accountability Office, the investigative arm of Congress recommended delaying construction of a second, the USS John F. Kennedy, until the Navy and its contractors have a better handle on a series of untried technologies.
Budget Overrun – best practices of project management tell us that if one can predict his or her project with +30/-15% accuracy at the end of the planning stage, he/she is actually doing a very good job as a PM. USS Gerald Ford is currently only 22% over the budget …
Estimate Requirements – speaking of estimates, based on my personal experience working with both the US and Canadian departments of defense, they hate +/- appraisals, instead always insisting on the "single number" estimates. This causes the vendors into a dilemma:
On one hand I want to win the contract, so I will make my estimates smaller,
But on the other hand, I don't want to be featured on CNN in a couple of years, so I will have to make the numbers larger in order to increase the probability of hitting the target
What is you take on this case study? Do you see any additional root causes? What would you address differently? Please leave your comments below.
Bibliography
About the Author
Jamal Moustafaev, MBA, PMP – president and founder of Thinktank Consulting is an internationally acclaimed expert and speaker in the areas of project/portfolio management, scope definition, process improvement and corporate training. Jamal Moustafaev has done work for private-sector companies and government organizations in Canada, US, Asia, Europe and Middle East.  Read Jamal's Blog @ www.thinktankconsulting.ca
Jamal is an author of two very popular books: Delivering Exceptional Project Results: A Practical Guide to Project Selection, Scoping, Estimation and Management and Project Scope Management: A Practical Guide to Requirements for Engineering, Product, Construction, IT and Enterprise Projects.