Submitted by

Jamal Moustafaev

on Tue, 05/23/2017 - 11:05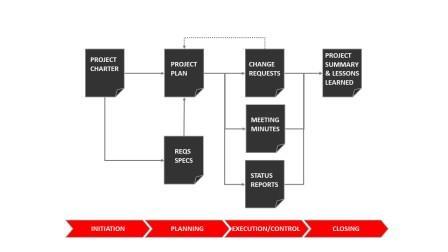 Almost every time I start a project at a new company I have to answer the following question:
So, Jamal, what are your deliverables as a Project Manager? What should we expect from you and when?
And every damn time I go to the nearest white board and draw the following diagram (see Figure 1).
Figure 1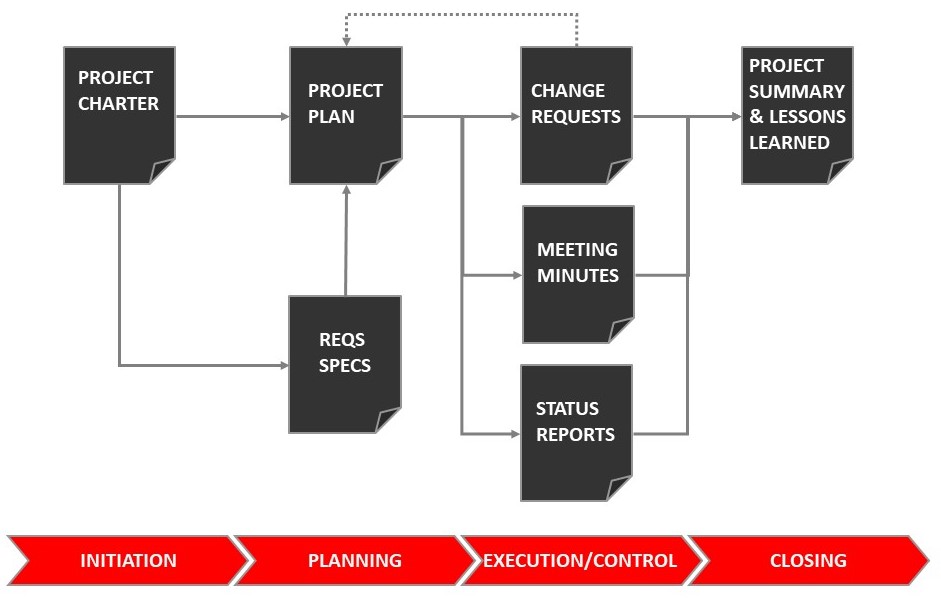 Here are the definitions and useful links:
Project Charter – a fairly short document that outlines high-level project scope, timeline and budget (always with significant +/- qualifiers), stakeholder register, project justification, risks, constraints and assumptions. See samples here and here.
Requirements Document – usually a fairly long document containing all of the requirements of the new product or service (functional and non-functional for IT/SD projects, business requirements for enterprise ones). See samples here and here.
Project Plan – a detailed document covering project scope (usually refers to the requirements document), schedule, budget, risks, quality, human resources, communications, stakeholders and procurement. See template here and step-by-step instructions here.
Status Reports - a regular, formalized report on project progress against the project plan. See template here.
Meeting Minutes – document containing the results and resolutions of a project meeting. See template here.
Lessons Learned – document describing the overall project summary and key lessons learned for future project managers on similar initiatives. See template here.
Question: What other documents would you add to this list?
About the Author
Jamal Moustafaev, MBA, PMP – president and founder of Thinktank Consulting is an internationally acclaimed expert and speaker in the areas of project/portfolio management, scope definition, process improvement and corporate training. Jamal Moustafaev has done work for private-sector companies and government organizations in Canada, US, Asia, Europe and Middle East.  Read Jamal's Blog @ www.thinktankconsulting.ca
Jamal is an author of three very popular books: 
Delivering Exceptional Project Results: A Practical Guide to Project Selection, Scoping, Estimation and Management 
Project Scope Management: A Practical Guide to Requirements for Engineering, Product, Construction, IT and Enterprise Projects