Submitted by

Jamal Moustafaev

on Tue, 12/01/2015 - 11:59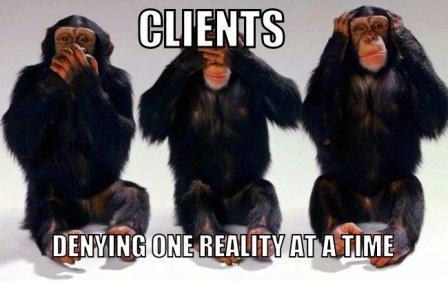 Foreword
Throughout my career I have always tried to build a relationship based on trust with my clients. I always made sure that the time and budget estimates were based on cold reality rather than some enigmatic expectations of the customer. I did this not only because of PMI Code of Ethics and Professional Conduct  but also because in my humble opinion, it is much easier to weather the storm at the very beginning of the venture, than to agree to everything your customer wants at inception and turn your life into a living hell for the rest of the project.
As a result whenever a client came to me asking for something like this (see if you can recognize some of your clients!):
"I want a customized Ferrari delivered to me tomorrow for $500"
I always replied:
"Sorry, but with that kind of timeline and budget, the best I can do is a bicycle and here is why ..."
Usually if what followed after "why" was fairly reasonable and convincing, about 90% of the stakeholders agreed with me and we proceeded to work on the project at hand in a friendly and collaborative manner.
Having said that, today I want to share with you story that falls into the other 10% ...
Introduction
Imagine the following situation:
Smaller software company A signed a major deal with larger retail company B to supply them with a new trading platform
The technical sales team assessed the situation at company B and came up with an approximate estimate of US1.5 million for the entire project
The management of company B dismissed the estimate produced by the sales team and forced company A to accept a US$750,000 target
Since company A has been experiencing certain financial issues at the time, they yielded to that demand, but added an article to the contract stating that:

Since the budget is smaller than expected, company B will assign a team of their employees to work full time on the deployment of the system together with a team of specialists from company A
Once the money (i.e. the $750K) runs out, company B will accept all the responsibilities remaining for fine-tuning the platform
Act 1: The Planning
Soon after the project started, the project manager, business analyst and the senior architect from company A sat together in order to elicit, analyze and document all of the relevant requirements. After about a month of interviews, JAD sessions and consultations with technical experts from both sides they came up with a final requirements document (RD).
Once the project manager received a complete and accurate requirements document, he was able to produce a schedule and the resource requirements estimate. Guess what the final estimate turned out to be?
Optimistic forecast - $1.4 million
Most likely - $1.5 million
Pessimistic - $1.7 million
Act 2: The First Negotiations
Armed with the new "bottom-up" estimate project manager went to his boss, the Chief Operating Officer of company A.
PM: Listen, we have just completed our estimation exercise (together with company B) and it looks like we are not going to be able to finish the project on budget ...

COO: Don't worry, our contract states we can abandon this project once the money runs out

PM: But I thought we were interested in a successful finish of this venture so that we could announce to the rest of the world that our platform can successfully support such large clients

COO: But they said they could finish it without us!

PM: Well, that is the problem, according to our calculations they will be left with approximately 45-60% of the scope and according to our technical guys there is no chance they would be able to do that on their own!

Why don't we do this? We will work with our team and prepare several alternative options for us to finish this project successfully. Then, we will present them to our counterparts at company B. Hopefully they would be able to convince their management to do something ...
Act 3: The Proposal(s)
After an extended session with his team the project manager from company A came up with the following set of options (see Table 1):
Table 1

Once the proposal has been complete, it has been shared with the project team from company B. Although they (client's team) would have preferred to stick to option 2, they felt that their company management might be open to either option 3 or 5. The video conference ended with the decision that team B would share the options with their executives and come back with an answer in a day or two.
Act 4: The Answer
Now, guess what kind of answer  team A received early next morning?
"We would like to request that you replace your project manager with someone who is a bit more enthusiastic and optimistic about the outcome of this project! We believe that if we roll up our sleeves and work hard we will be able to accomplish this venture on-time and on-budget!"
As a result of this demand, the project manager has been replaced with someone "more optimistic" and the work commenced.
Conclusion
You are probably wondering what happened to this project? Well here is a list of events that took place in 9 months:
Once the $750K run out, the project was 45% complete and company A team was ready to head home
Members of company B team went to their executives and assured them that there was no chance whatsoever to finish the project without the help of company A
Management of company B had to increase the project budget ... to $2 million (instead of the originally requested $1.5 million) due to the mistakes made in the process because of long hours, rush to deliver the platform and the shortcuts the team had to take
Project took 11 instead of originally scheduled 6 months
Any thoughts, comments advice on what to do in a similar situation? Have you ever found yourself in a similar situation? What did you do about it?
About the Author
Jamal Moustafaev, MBA, PMP – president and founder of Thinktank Consulting is an internationally acclaimed expert and speaker in the areas of project/portfolio management, scope definition, process improvement and corporate training. Jamal Moustafaev has done work for private-sector companies and government organizations in Canada, US, Asia, Europe and Middle East.  Read Jamal's Blog @ www.thinktankconsulting.ca
Jamal is an author of two very popular books: Delivering Exceptional Project Results: A Practical Guide to Project Selection, Scoping, Estimation and Management and Project Scope Management: A Practical Guide to Requirements for Engineering, Product, Construction, IT and Enterprise Projects.
Please share, your support is appreciated.