Submitted by

Jamal Moustafaev

on Sat, 05/13/2017 - 13:29
Some time in 2005 as part of preparations for a (highly controversial but nevertheless successful) bid for the 2018 FIFA World Cup the government of Russia decided to build a brand-new soccer stadium in Saint Petersburg. The building phase started in 2007 with the government allocating US$268 million for the construction of the stadium.
Interestingly enough the construction that was initially supposed to end in March of 2009 continues until now, with "some cosmetic changes to be finished soon". As of right now the stadium is astonishing 518% late and 548% over budget (see Tables 1 and 2).
Table 1 - Timeline
Table 2 – Budget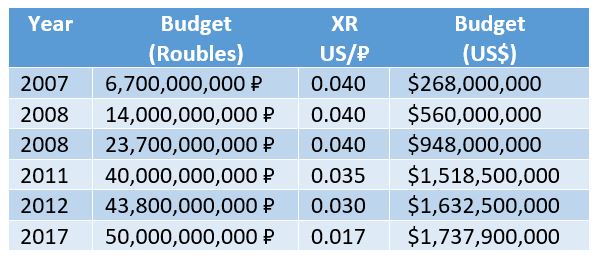 Unfortunately there are no official reliable sources of information regarding the root causes of these failures. However, based on the reports of various newspapers there were two major causes of delays, cost overruns and quality issues: poor planning and rampant corruption.
Some of the issues encountered during the construction of the Krestovsky Stadium.
One of the major delays has been attributed to the sudden death of the Japanese architect Kisho Kurokawa: apparently nobody bothered to translate his blueprints from Japanese to Russian
Severe vibrations of the retractable field (reported by FIFA)
"Finished" stadium does not have a media center
Crowd access control "issues" (reported by FIFA)
Severe problems with the grass pitch
Leaking roof and resulting flood of the stadium
Four confirmed deaths due to safety rules violations (no investigations launched)
Several worker strikes due to non-payment of salaries (some of the foreign workers deported from Russia as a result)
Cracks in concrete walls detected
Part of a very expensive retractable has been blown away by the wind
Fire erupted in the stands due to a violation of safety procedures
Mould resulting from flooding
Collapsed crane that fortunately did not result in any deaths
Norwegian football magazine Josimar claimed in March 2017 that at least some of the workers on the project were North Korean "slaves"
As a result of this, FC Zenit Saint Petersburg, who inherited this stadium with all of its problems from the Russian government for 1 (one!) rouble refused to use that field for its Russian Premier League games.
And finally, just for comparison purposes, take a look at this picture:
Above: Player changing rooms Juventus stadium (construction time – 2 years, cost – US$170 million)
Below: Player changing rooms Krestovsky stadium (construction time – 10+ years, cost – US$1.7 billion)
About the Author
Jamal Moustafaev, MBA, PMP – president and founder of Thinktank Consulting is an internationally acclaimed expert and speaker in the areas of project/portfolio management, scope definition, process improvement and corporate training. Jamal Moustafaev has done work for private-sector companies and government organizations in Canada, US, Asia, Europe and Middle East.  Read Jamal's Blog @ www.thinktankconsulting.ca
Jamal is an author of three very popular books: 
Delivering Exceptional Project Results: A Practical Guide to Project Selection, Scoping, Estimation and Management 
Project Scope Management: A Practical Guide to Requirements for Engineering, Product, Construction, IT and Enterprise Projects