Submitted by

Jamal Moustafaev

on Tue, 04/12/2016 - 20:07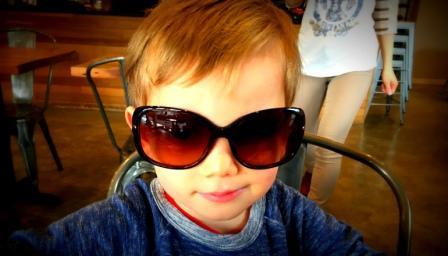 This is my 100th post on LinkedIn, so to celebrate this event I decided to do something funny and light-hearted, but yet still relevant to the domain of project  management. The problem is that by the time I became a father, I have already been a fairly established PM professional, so I couldn't help but to look at this fatherhood thing through the proverbial "project management glasses".
So, without further ado, here are the top 10 things I learned in the past four years:
Lesson #1 – Scope Creep (#projectscopemanagement)
No matter how much time you spend eliciting, analyzing and baselining your road-trip requirements, you scope of work can be instantaneously shattered by your rascal meditatively grabbing his behind followed by a simple, "Dad, I have to go. Number two. NOW!"
Lesson #2 – Buffer Time (#projecttimemanagement)
Remember, buffer time added to your estimates is your friend! The rule of thumb is fairly simple: however long it took you to accomplish the task before you had your kid, multiply that number by four (e.g. 15 minutes = 1 hour)
Lesson #3 – Critical Path Will Change All the Time (#projecttimemanagement)
Let us assume that you are planning two parallel tasks:
Task A – Comb your child's hair (performed by you) and
Task B – Prepare a sandwich for the picnic in the park (your spouse)
You estimate:
Task A – 15 seconds
Task B – 7-10 minutes
Therefore task B is on the critical path, while task A has at least 6 minutes and 45 seconds of slack, right? Wrong!!! As soon as your fearless "Captain America" sees you with a hair brush in your hands, he throws a tantrum so bad, it causes his mother to run up the stairs screaming, "WHAT. ARE. YOU. DOING. TO HIM?"
As a result you have to join your efforts, thus making tasks A and B sequential rather than parallel.
Lesson #4 - Inflated Budgets (#projectcostmanagement)
Here is a rule-of-thumb estimate: if you go shopping alone and your total bill is $100, add 15% if you take your kid with you. ("Dad, I really, really need that Kinder Surprise and that dinosaur!")
Lesson #5 – Really Inflated Budgets (#projectcostmanagement)
Add another 30% if your wife came along to the supermarket with you. "Oh look, here is a small bottle of hypoallergenic, organic (?), chemicals-free (??), non-biological (???)  detergent that costs only $40! We really need to buy it for our child!"
Lesson #6 – Taking Photos (#projectqualitymanagement)
The shirt your scoundrel is wearing on a photo will almost always appear to have between two and four disgusting stains. The stains will miraculously rematerialize approximately 15 seconds after you fetch him a freshly laundered outfit.
Lessons #7 – Risks (#projectriskmanagement)
Risk is defined as a bad thing that may happen on your project, but you are not entirely sure it will. In other words, if the probability of "risk" happening is 100%, this is not a risk, it is something else.
Well, the good news is that any project involving your kid, will have no risks! The bad news is that everything that can go wrong will most definitely go wrong!
Lesson #8 – Babysitting (#projecthrmanagement)
You can occasionally alleviate your problems by outsourcing to your or your spouse's parents … The key word being "occasionally". Just try to cultivate a sense of competition between the paternal and maternal grandparents.
Lesson #9 – Communicating (#projectcommunicationmanagement)
No matter how hard you try your child will only hear whatever he/she wants to hear. Hence numerous communications regarding the "Clean up your mess" workpackage will go unnoticed forever.
Lesson #10 – Communicating Better (#projectcommunicationmanagement)
To address this problem start every communication by loudly exclaiming, "Oh, do I see a large chocolate bar on the table?" Once your kid (instantaneously) becomes very interested in what you have to say, convey the actual message.
About the Author
Jamal Moustafaev, MBA, PMP – president and founder of Thinktank Consulting is an internationally acclaimed expert and speaker in the areas of project/portfolio management, scope definition, process improvement and corporate training. Jamal Moustafaev has done work for private-sector companies and government organizations in Canada, US, Asia, Europe and Middle East.  Read Jamal's Blog @ www.thinktankconsulting.ca
Jamal is an author of two very popular books: Delivering Exceptional Project Results: A Practical Guide to Project Selection, Scoping, Estimation and Management and Project Scope Management: A Practical Guide to Requirements for Engineering, Product, Construction, IT and Enterprise Projects.
Please share, your support is appreciated.