Submitted by

Jamal Moustafaev

on Sat, 06/10/2017 - 21:25
Traditional Models
There are a lot of rating models out there that attempt to define project success or failure. There is the traditional one:
Success: Finished (more or less) on time, within budget and met all requirements
Challenged:  Reaches conclusion, but with cost overruns and schedule slippages; possibly not all specifications are met
Failure: Project was abandoned or cancelled due to project management failure
I can't say that I am a big fan of it, because it fails to incorporate the value (i.e. the project portfolio management) perspective into the model. Recently I came across the one I really liked – a model that considers both project management (PM) and project portfolio management (PPM) sides proposed by Harold Kerzner:
Complete Success: Project met success criteria, value was created and all constraints were adhered to
Partial Success: Project met the success criteria, the client accepted the deliverables, value was created, not all of the constraints were met
Partial Failure: Project was cancelled. But some IP was created that can be used on other projects
Complete Failure: The project was abandoned and nothing was learned
Proposed Model
My view of a successful project is slightly different. I basically like to (1) add word "reasonably" to the "adhering to constraints" sentence and (2) include the recoverability variable into the equation:
Project success is a function of:

Business value is realized
Project is delivered reasonably on-budget
Project is delivered reasonably on time
Project scope is delivered within reasonable limits
NOTE: "reasonable" = "does not negate the business value"

Projects should also be differentiated by their recoverability
Regarding the first point, let us examine the following famous examples:
Titanic movie (cost -$200 million vs. revenues - $2 billion)
First iPhone (cost - $150 million, revenues – $2.7 billion)
Grand Theft Auto 5 (cost - $265 million, revenues – US $1 billion in its first three days!)
Would we call Titanic a troubled project if it was released on 18-Jan-1998 instead of the original 18-Nov-1997? Would we think of the iPhone as a failure if its development ended up costing $160 million instead of the original $150 million? Of course, not!
So, what happens if we try to look at projects from the PM success/failure, PPM success/failure and recoverability/non-recoverability perspective (see Table 1)?
Table 1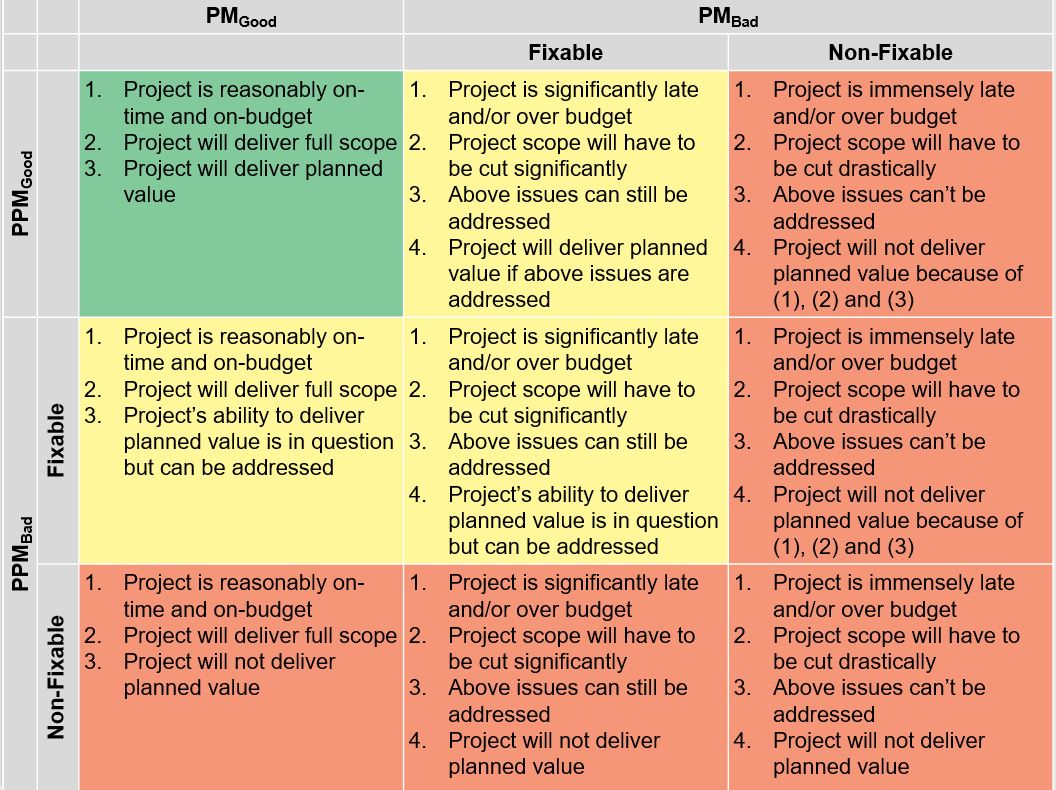 Jamal Moustafaev, MBA, PMP – president and founder of Thinktank Consulting is an internationally acclaimed expert and speaker in the areas of project/portfolio management, scope definition, process improvement and corporate training. Jamal Moustafaev has done work for private-sector companies and government organizations in Canada, US, Asia, Europe and Middle East.  Read Jamal's Blog @ www.thinktankconsulting.ca
Jamal is an author of three very popular books: 
Delivering Exceptional Project Results: A Practical Guide to Project Selection, Scoping, Estimation and Management 
Project Scope Management: A Practical Guide to Requirements for Engineering, Product, Construction, IT and Enterprise Projects