Submitted by

Jamal Moustafaev

on Wed, 04/30/2014 - 12:23
My first book "Delivering Exceptional Project Results: A Practical Guide to Project Selection, Scoping, Estimation and Management" was released by J. Ross Publishing in September 2010!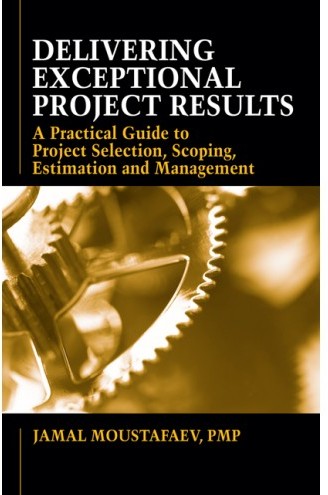 Brief Synopsis:
This unique how-to implementation guide unifies project management, portfolio management, and requirements engineering into one proven, comprehensive best practice framework to help organizations deliver exceptional project results on a consistent basis. Delivering Exceptional Project Results transcends differences in the various "types" of project management, such as traditional or agile, and focuses on economic principles, methodologies, skills, tools, and techniques that can be applied successfully at companies in any industry.
Key Features:
Defines the three pillars of project portfolio management and examines the portfolio management methods used by industry leaders, followers and laggards to justify their validity
Explains best practices for assessing project value, categorizing and prioritizing projects, balancing portfolio mix, determining and managing project pipeline throughput capacity, and strategic alignment to maximize results and minimize risks
Covers project scoping, negotiation and planning, estimation, monitoring and control, the role of creativity, and the value of lessons learned documents using numerous real-world examples within a business context and from an entertaining historical perspective
Editorial Reviews:
"Leading companies that are positioning themselves for the future rather than the present are asking the project managers to participate in project selection, scoping, and estimation as well as management. Delivering Exceptional Project Results offers a glimpse into the future role of the project manager. If your company believes that project failure is an option, then perhaps you should not read this book."

Harold Kerzner, Ph.D. Best-selling Author,
Professor Emeritus, Baldwin-Wallace College

"I really enjoyed reading this book. The chapters, full of valuable insights well beyond the typical project management presentations, are introduced with diverse and engaging historic case examples. Executives faced with project portfolio management, or who are venturing into the area for the first time, will find the latter part of the book particularly valuable as new solutions are offered for those seemingly intractable problems of project portfolio management."

R. Max Wideman, PMI Fellow
AEW Services and Management Consulting
 
Table of Contents:
Foreword by project management guru and best-selling author Harold Kerzner
Chapter 1: Introduction
Chapter 2: What Is Project Management and Do You Really Need It?
Chapter 3: Things You Probably Didn't Know about Estimation
Chapter 4: Are We Supposed to Negotiate on Projects?
Chapter 5: How and Why Do We Write Project Charters
Chapter 6: Kick-Starting Your Projects – The Scope Definition Perspective
Chapter 7: Defining the Detailed Scope – How and Where Do You Find Requirements?
Chapter 8: Who Needs Creativity in Projects and How to Cultivate It
Chapter 9: How to Incorporate Scope Definition into Project Management
Chapter 10: How to Write a Great Project Plan
Chapter 11: How to Troubleshoot Scope Problems
Chapter 12: Who Needs Walkthroughs, Inspections and Peer Reviews
Chapter 13: Why Should You Manage Scope and Customer Expectations?
Chapter 14: Why Invest Time and Effort in the Lessons Learned Document?
Chapter 15: How to Select the Best Projects
Chapter 16: How and Why Do You Need to Maximize Portfolio Value?
Chapter 17: How and Why Do You Need to Balance Your Portfolio?
Chapter 18: How and Why Do You Need to Link Portfolio to Strategy?
Chapter 19: How to Implement It All
About the Author
Jamal Moustafaev, MBA, PMP – president and founder of Thinktank Consulting is an internationally acclaimed expert and speaker in the areas of project/portfolio management, scope definition, process improvement and corporate training. Jamal Moustafaev has done work for private-sector companies and government organizations in Canada, US, Asia, Europe and Middle East.  Read Jamal's Blog @ www.thinktankconsulting.ca
Jamal is an author of two very popular books: Delivering Exceptional Project Results: A Practical Guide to Project Selection, Scoping, Estimation and Management and Project Scope Management: A Practical Guide to Requirements for Engineering, Product, Construction, IT and Enterprise Projects.